Whimsical Gelateria & Caffe by Cielo Dolci @ Solaris Dutamas, KL
As you may have heard of Cielo Dolci, an ice cream parlour that comes up with artisan gelato with all sort of exotic flavour such as nasi lemak, wasabi, the tarik, bubur cha cha, Thai escape and etc… and now, they have levelled up by creating another great place to hang out, bringing out another new experience with their artisanal gelato, introducing the hot and cold concept in the food they served. Here we were, at …
Whimsical Gelateria & Caffe
A playfully quaint and fanciful place. Cute and colourful. Serving not just artisanal gelato this round, but incorporate the cold and chilling gelato into the hot food. They offer interesting dishes like ohayo, kombawa and even incorporating gelato in their rise & shine breakfast
Ahhh Whimsical; definitely fit its name.
Americano (Rm 7)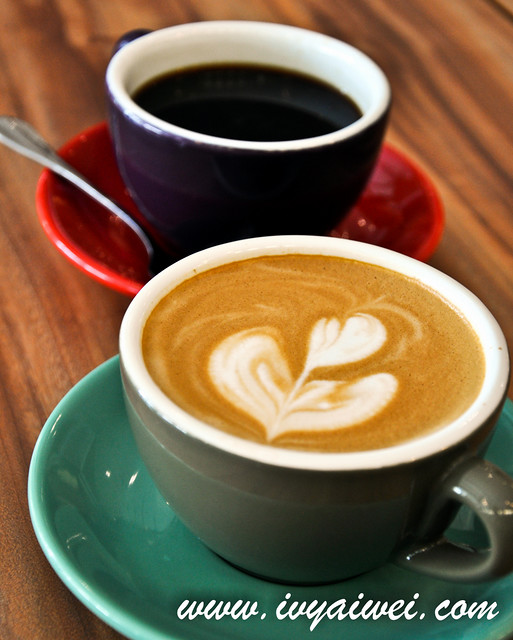 Caffe Latte (Rm 10)
Smooth and velvety. Pretty decent cup of latte it was!
Whimsical Breakie (Rm 29.5)
An assembly of breakfast in whimsical proportion, served along with lamb sausage, beef sausage, beef bacon strips, sautéed mushroom, house baked beans, scrambled eggs and savoury waffle. A good plate that is good for sharing so that you can try out more. This one has no gelato in, but the other dish called Rise & Shine is paired with Beef Bacon Gelato.
Duck on the Run (Rm 23.9)
A stack of smoked duck, caramelized onion and poached eggs on waffle, finished with house hollandaise sauce. What a smart and wonderful combination, with savoury smoked duck and sweet caramelized onion, and paired with the tangy high protein poached egg. How I wish the waffle is made crispier, then it would all be a perfect match.
The eggy madness.
Whimsical Waffle (Rm 19.9)
Sweet waffle topped with Cielo Dolci Vanilla Cinnamon Gelato and strawberries, drizzled with chocolate ganache and sprinkled with roasted almond flakes. Early morning makan ice-cream culture has never appeared in my family as my mum would never allow. But I couldn't help. *Sorry mum, I ate ice cream early in the morning. *
Craving for more ice cream, we ordered the Pistachio – premium flavour & Lavender Honey (Rm 12.9 for double scoop + Rm 1 for premium flavour).
Check out the flavours at the front counter, you may try them out before ordering.
Dining with the hot mama-to-be.
Whimsical Gelateria & Caffe by Cielo Dolci
D2-G3-05, Solaris Dutamas,
1 Jalan Dutamas 1,
50480 Kuala Lumpur, Malaysia
(Located outside, opposite the Namoo on the Park)
Tel: +603 6419 0966
Opening hours: from 9am to 11pm
Food is served from 9am to 5pm
After 5pm, gelato, drinks and cakes are available.
Related Posts via Categories
---
---