Bookmark Coffee @ Taman Connaught, Cheras
How was my Christmas???
Well, Mr. Santa and Mr. Snowman accompanied me through the Christmas day! Not the mention, the couple from Malaysian Flavours too! They are pretty good in searching for new stuff, here was I; brought over to a quaint café that was so near to me. *throw confetti* I have a new hide out place now!!! ermmm, not really a hideout as it was quite crowded worrr…
Bookmark Coffee
A cute little café that that is located in Taman Connaught and near to the university, taking space only half of the shoplot in front of a saloon and it is kinda difficult to identify. Worry not as it is just located next to the Restoran Gading Curry House and inside the 9 Studio Hair Saloon.
Bookmark coffee is specializing in serving good cups of coffee that comes with really amazing latte art and some pretty affordable dishes or breakfast plate that will definitely draw the university student crowds over. The area is slightly warm because of the half open area and the ventilation isn't really perfect, but this doesn't stop one from visiting. It was a full house on Christmas Day!!!
Hello, Mr Santa.
Flat white (Rm 8)
Coffee here is really amazing, I must say. Brewed with Sulawesi Kalosi Single Origin; it was full-bodied, carried a very intense aromatic flavour that gave a rich aftertaste. Ohhh, I am so in love with this bean, and their skill too! Brewed at the right temperature and poured over with fine steamed milk; finally touched with surprising latte art! I just asked for something Christmas-y and the barista gave me Mr Santa in his uniform! Awwww, how cute!
Barista at work
You can actually request for any drawings you like to have on your coffee, or even a Snoopy, Mickey Mouse, Donald Duck, Eiffel Tower, or even your portrait or your loved ones' face to be on that cuppa. Just pass them the picture to the staff, and they will illustrate them out. Very talented.
Mr Snowman as requested by Summergirl.
Matcha Latte
Crazy Crispy American Toast with Bacon (Rm 8)
Thick toast was coated with corn flakes and deep fried into golden brown. An extremely crispy outer layer with pillow-y soft center toast, served with drizzled maple syrup and paired with smoky bacon and sausage; ain interesting sweet-savoury-crunchy combination. Price was really affordable and I believe one couldn't get a good price like this elsewhere.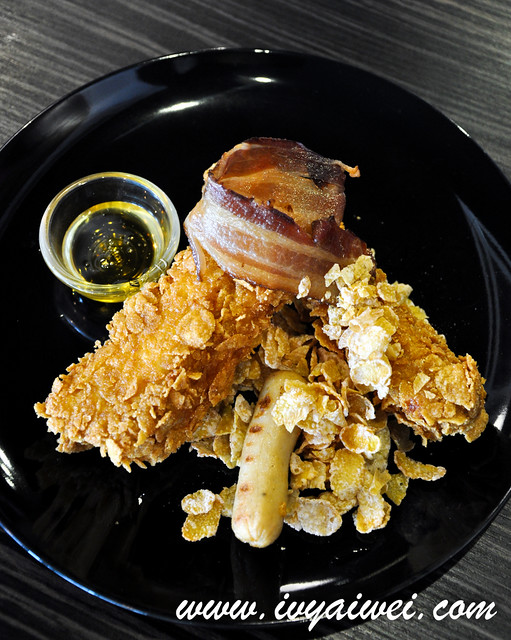 Smoked Duck Breakfast Platter (Rm 12)
One of the dishes in their Christmas menu, available till 4th Jan 2015. Came with toasted bread, sausages, sunny side up, sautéed mushrooms with onions, chicken and smoked duck slices. Though ingredients used are not at the superior quality, this is a simple breakkie that makes one satisfied easily. Moreover, it is very wallet friendly.
Coffee Cheese Cake (Rm 8)
Soft fluffy spongy coffee-flavoured-cake layered with cheese and elegantly dressed with caramelized nuts.
Great coffee, pretty latte art, good food. All at affordable price. This will be my next home soon.
Bookmark Coffee 花田小铺
43, Jalan Menara Gading 1,
Taman Connaught,
Cheras Kuala Lumpur.
Located next to Restoran Gading Curry House
Business Hours: 11am to 10pm
Closed on Thursdays, but sometimes on some other days.
Do check out their FB page for more updates.
Contact: 016 – 5131 305
Related Posts via Categories
---
---