Japan Expo Malaysia 2017
The first all japan event is happening right now in Fahrenheit 88 and Pavilion KL from 28th to 30th July, which is until this Sunday only; organized by G-Yu Creative.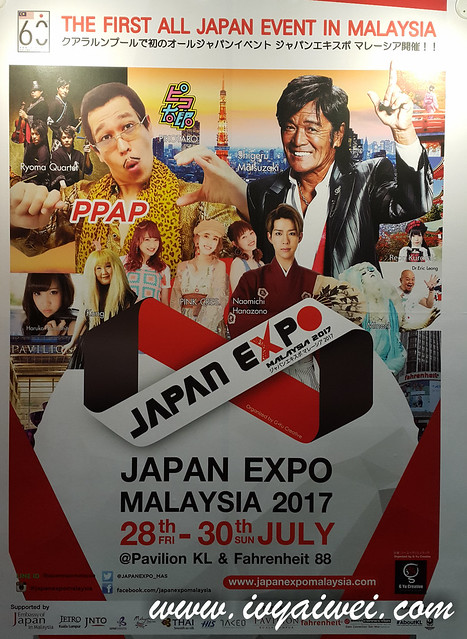 During this 3-days event, you will be able to catch all the
– live performances from the Japan Viral-Hit Pop Sensation that goes worldwide, "Pen Pineapple Apple Pen" by PIKOTARO;
– first live performance in KL from Japanese legend singer and actor, Shigeru Matsuzaki (松崎しげる); – performance by Japanese famouse traditional dancer, Naomichi Hanazono,
– a number of live concerts by Haruka Yamashita who is a member of "SPRING CHU♡BIT", Reon Kurosaki, Maiko from King Creamsoda;
– performance by Ryoma Quartet with the creed of "communicating the soul and culture of Japan to the world";
– Japanese traditional Pagong " Introduction of Japanese Traditional " Wa " Concept by Pagong & Muslima Fashion Show by Otousagi"
– Enjoy fashion show from iconic fashion designer, HARAJUKU IN KL Black Beetle, Liv-Berty & Lah'Lah'Land & cool boys and girls from "MONSTER KIDX"
-and etc…
If you are planning to travel to Japan, spend some times at the HIS booth and JapanWalkerSEA for itinerary planning!
Also, you will be able to have some hands on experience in origami workshop and dressing up prettily in Yukata. Drop by to savour some delicacies too such as Yamanashi prefecture's Momo (peaches) which are very sweet and juicy, fluffy tamago sandwich, aromatic and delicious mentaiko toast and oishi is giving out free cans of green tea!
I managed to catch the performance by the cute Haruka Yamashita and the really cool dance performance by Naomichi Hanazono. Wish I have more time to stay and enjoy all these performances… if you were a fan of Japan too, don't miss out this event and let's celebrate the 60th Anniversary of the establishment of Malaysia-Japan Diplomatic Relations together!
All photos taken by Samsung Note 4
Pavilion Kuala Lumpur
168, Jalan Bukit Bintang,
Bukit Bintang,
55100 Kuala Lumpur,
Fahrenheit 88
179, Changkat Bukit Bintang,
Bukit Bintang,
55100 Kuala Lumpur,
Related Posts via Categories
---
---