Xiao Lao Wang Hotpot 小捞王火鍋 @ The School, Jaya One
Xiao Lao Wang Hotpot 小捞王火鍋
Having heard of Xiao Lao Wang Hotpot from the buddies for quite some times and yet, I didn't have the chance to make my visit over when they were in Sg Buloh, and then Damansara Uptown. You know larrr, Sg Buloh wor… who will go with me wor, my parents will knock off the idea stat.
Now that Xiao Lao Wang Hotpot is back in action and located in The School Jaya One, which is so much nearer to me. I finally managed to try them out.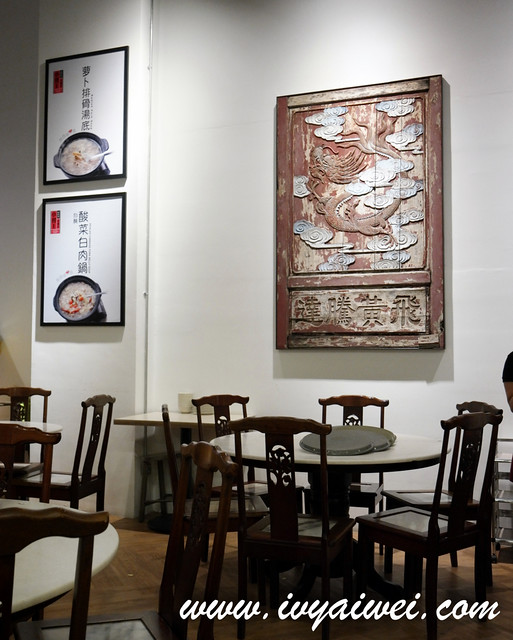 I quite love their interior which is dressed up oriental-ly and comes with woods and craft.
Homemade pickled vegetables and fruits for the drinks.
What makes the hotpot / steamboat special are always the soup base and fresh ingredients. Xiao Lao Wang Hotpot is famous for their Tomato Soup and Tomato Corn Soup which the buddies told me they are really yummy; also the Pig Stomach Chicken Soup. They have this new addition called Pickled Cabbage Pork Belly Soup in the menu.
Pickled Cabbage Pork Belly Soup (Rm 48.9) has my vote! This soup has high nutritional value packed with probiotics with the added in of pickled cabbage. They made pickled cabbage in house and it takes about a month time for the cabbage to undergo fermentation and then ready for consumption. The pork bone soup base was rich and refreshing with the sourish hint from the pickled cabbage; with more meat added in, the sweetness intensity built up and created a sweet and sourish soup.
You can order extra Pickled Cabbage to go into your soup to create more sourish flavour.
Pork Stomach Chicken Soup (Rm 42.9)
Not a fan of sourish appetizing pickled cabbage soup, go for this one which is rich in peppery flavour. They guys mentioned they love this more. The soup base was loaded with pork stomach and chicken.
Set Meals are priced from Rm 50.9 to Rm 60.9; which is consisted of mushrooms and vegetables, pork belly and fresh prawns; also some premium ingredients depend on the set meal you choose.
Live Red Snapper (Rm 75 for portion above)
This is great for sharing if you are here with a large group. The fish head was deep fried and added into the soup for extra flavour; while the fresh fish slices were bouncy in mouth with just a quick blanch in the hot piping soup.
Sanbanto Berkshire Pork Belly (Rm 16.9 for small; Rm 28.9 for large portion)
Also known as "hei zhu" pork belly, just need the use shabu shabu method to cook it. Look at the proportion of the pork belly, pinkish and layering with fats and lean part. It was so bouncy and delicious, soaked up the rich pork broth.
Their Homemade Balls are really ohmp!!! We sampled a few such as Pork Tendon Balls, Mushroom Balls, Beef Balls, and Cuttlefish Balls. All the balls were very bouncy with QQ texture. Love max on the Cuttlefish balls and Pork Tendon Balls. The mushroom balls were very aromatic.
Homemade Pork Tendon Balls (Rm 12.9)
Homemade Mushroom Ball (Rm 12.9)
Homemade Beef Balls (Rm 13.9)
Homemade Cuttlefish Balls (Rm 16.9)
Pork Neck (Rm 8.9 for small, Rm 13.9 for large portion)
Hong Kong Bean Curd Roll (Rm 13.9)
Another must order item on the steamboat fare list. It was crispy and really syok to go with some chilli dips. If you fancy a softer texture, just dip into the soap for about 2 seconds, with its crispiness retained but at the same time, layered with soften texture.
Cold Tofu (Rm 6.9)
Like the sponge amazingly absorbed the flavourful soap and gave the bursting effect.
Make your dipping sauce from the Sauces and Condiment Counter to go with your meat and vegetables. They have everything available for you, from chilli to soy sauce to corianders… use your creativity to mix and match them in one bowl. Or, if you wish to explore a new flavour, ask the staff to mix it for you. We have Andy to make 2 dipping sauces from his secret recipes.
***
Next to Xiao Lao Wang are the Lammeeya and Kwong Sang Yuen Coffee, which is also run under the management of Xiao Lao Wang. Lammeeya is the noodle expert that serves really good springy egg noodles whereas Kwong Sang Yuen Coffee Shop serves old school kopitiam fares. They use Arabica Coffee Beans instead of coffee powder in their coffee.
Handmade Thin Bamboo Egg Noodle (Rm 8.9 for medium portion)
Thin strand of springy egg noodles, packed with QQ bouncy texture and topped with some condiments and the special homemade chilli for extra kick!
Handmade Bamboo Egg Noodle with Sesame Sauce (Rm 9.9)
A kind of refreshing cold egg noodles served on the ice bath to keep it cool. You can choose to dip in or pour over the fragrant sesame sauce before enjoying the noodles. This has a better texture than the earlier one as it was served cold and the bouncy texture of the noodles was preserved.
Kopi O – Imperial Black Coffee (Rm 6.5)
Royal Milk Tea
Iced Royal Milk Tea (Rm 6)
Lime Lime Juice (Rm 5)
Hainan Chicken Chop with Mashed Potato (Rm 14.8)
Very flavourful and well marinated chicken chop in Hainanese style. Something different from this one.
Xiao Lao Wang Hotpot 小捞王
100-G021, The School, Jaya One
No. 72A, Jalan Universiti,
46200 Petaling Jaya, Malaysia
Tel: +603 7496 0670
Mon to Sun | 5pm till 10pm
Related Posts via Categories
---
---