YOKOHAMA: Kirin Yokohama Beer Village @ Namamugi
Ahhh, think I need rocket booster to boost up the speed of writing before another autumn comes.
Besides the must visit touristy places in Tokyo and Lake Kawaguchi, I had this in my Tokyo trip last autumn. Specially added this in the itinerary for the dad who loves beer and whiskey very much.
Planning a trip is fun, but it's often tiring and brain-juice-squeezing activity because everyone has their preferences. Nature and sight-seeing places for the mother, desserts and bakery for the patisserie chef brother, shrine and culture for me… etc.
During last Japan trip, it will be the beer first since I couldn't get any whiskey distillery around. Beer is the most popular alcoholic drink in Japan. Once you enter the konbini (convenient store), there will be a great array of beer in the fridge for you to choose from, namely Yebisu, Sapporo, … and Kirin.
Kirin Yokohama Beer Village
The brewery is located at Namamugi 生麦, some distance away from Tokyo but just a few stop away from Yokohama.
A brewery that offer factory tours where the visitors can get the see and learn about the process of beer production. The tour took about an hour of time. By the end of the tour, it will be a beer tasting of the beers and Kirin beverages of your choice (up to 3 glasses per pax) in a short 20 minutes.
The brewery tour is free of charge. Reservation before the trip is recommended to avoid disappointment. I didn't make reservation beforehand but tried my luck during the weekday (I failed reading the reservation page online). Glad that they have slot to fit us in on the weekday and I was told that the weekend will be filled with visitors and they may have to reject walk-ins.
After done with the registration and put on the badge, our guide leaded us in. She spoke rather well in English and tried her best to explain every detail to us.
This is a trip that allows you to use all your 5 senses: hear, see, touch, taste and smell.
We were greeted with the sound of popping up the can and the crisp fizzy sound of the beer.
We were given a brief introduction on beer production. The ingredients are placed in the wooden boxes and we were given the opportunity to touch the hops and malt, smell them and even taste the malt.
Green hops, like the pine cones.
Making beer is not an easy process as it involved a long period time and a lot of steps. They will boil the malt to create wort. We got the chance to try the wort that contains no alcohol in it. Tasted sweet and aromatic.
Difference of first press and second press of wort.
Kirin Ichiban is 100% malt first press beer, using first press of wort which gives golden vibrant colour; tastewise, it has finer texture, rich and sweet flavour.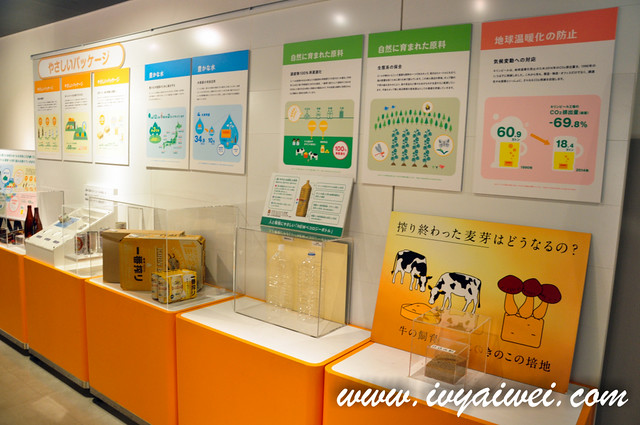 All about Kirin's commitment to the environment.
The limited edition, available at limited time only.
Beer tasting time. Given 3 glasses per pax and a packet of Kirin cheese flavour of Kaki no Tane柿の種 (Kaki-pi – the crescent shape senbei snack).
The guide also demonstrated the three-part pouring technique so that we can just simply do it at home and create the close to draught flavour at home.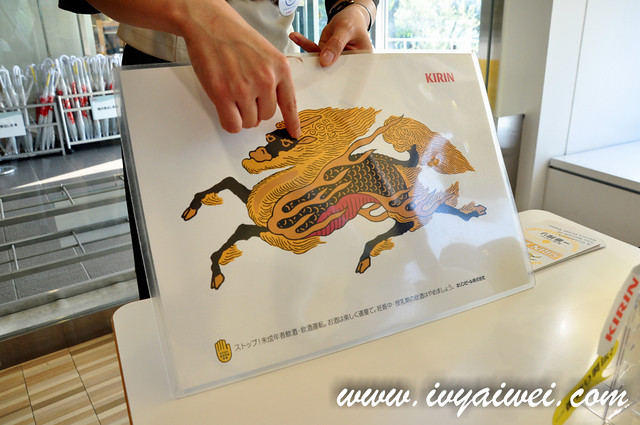 There is a souvenir shop selling all the Kirin goods too.
Kirin beer's infused snack.
Need food?! Check out the Spring Valley Pub Brewery and Restaurant Beer Port to savour food and beer together.
Kirin Brewery Co.
Yokohama Factory
1-17-1 Namamugi,
Tsurumi-ku,
Yokohama.
〒 230-8628
Tour reservations/inquiries: 045-503-8250
Website: http://www.kirin.co.jp/entertainment/factory/yokohama/index.html
Getting here:
Travel on Keikyu Main Line from Yokohama Station to Namamugi Station. Kirin Beer Village is about 10 minutes walk from the station.
Related Posts via Categories
---
---