Things to do in Aomori
Japan has more than just Tokyo, Kyoto, Osaka, Hokkaido. I am always anticipated to explore the Tohoku area such as Aomori, Akita, Sendai; western area such Ise and Wakayama, southern area such as Beppu and Oita. I made it come true this round… to AOMORI.
If you are interested to explore the southern area, do click each title below and do a short read up
Things to do in Aso
Things to do in Nagasaki
Arita
Kumamoto
Aomori 青森
The northern most prefectures of Japan's mainland. This prefecture itself is very huge, covering cities like Towada, Hirosaki, Tsugaru, Hachinohe, the capital city Aomori itself and many others. This prefecture is well known for its production of apples, sake and fresh seafood; also the beautiful fire festival that is happening during summer season, usually early of August around 2nd to 7th. This festival has attracted over three millions people annually.
This trip, we were only able to drop by to Aomori (the capital) and also Hirosaki. Hearsay Towada and Hachinohe have a lot of charms too! Wish we had more time to explore the beautiful charms of the other 2 cities.

Aomori is a very quiet place, I would say. Basically everywhere is walkable from the station. I am glad to have the VisonData's pocket Wi-Fi with us as we relied on it a lot besides the map taken from the tourist information center.
READ: Japan Trip 2018: 9D8N in Aomori, Sendai & Tokyo
Travelling to the Tohoku area is a breeze with this ultimate Flexible 5 Day JR East Tohoku Area Pass (Japan Pick Up)
. I got it from KLOOK at ¥19,000 (about Rm 700). This pass is a flexible 5 days pass where you can pick any of the 5 days (within 14 days period), ride on shinkansen or local train and travel to your destinations.
Yes!!! Shinkanken! It is unlimited rides of them!!! Per ride per way itself is already costing a bomb but with this pass, you will be able to hop on and off the shinkansen! Imagine travelling up to the furthest Aomori is just 3.5 hours. And you are granted with UNLIMITED rides!
Aside from that, you may also use this pass to Nikko by JR East lines and Tobu Railway lines! Planning to travel to Nikko? Read about Things to do in Nikko.
So, after 3.5 hours of shinkansen journey, we have arrived at Shin-Aomori Station. From here, we need to take the local train on JR Ou Line to go to Aomori. The journey from Shin-Aomori Station to Aomori station is just about 6 minutes train ride away.
Now, let's see what we did in Aomori City Area.
1. Head off to ASPAM
Soon we dropped off our luggage, we walked over to ASPAM. It is just a stone throw away from our hotel.
ASPAM is the triangle-shaped building with a shape like the letter "A" from Aomori. It is 76 meter tall building with 15 floors, also a facility that equipped with souvenir shops, panorama movie theatre, observation deck and restaurants.
Getting here:
About 8 minutes' walk from JR Aomori Station East Exit
ASPAM
1-1-40 Yasukata Aomori-shi Aomori 030-0803
Opening hours:
9:00 ~ 22:00
*Hours may differ by each shops/restaurants.
2. Enjoy the 360 degree panoramic view of beautiful Aomori City from ASPAM
There are 3 types of tickets available:
Ticket A covers both entrance to Panorama Movie and Observation Lounge at 800
Ticket B is for entrance for Panorama Movie at 600
Ticket C is for entrance to Observation Lounge at 400
We got the Ticket C from the vending machine and went up to the Observation Lounge at Level 13. This ticket covers a cup of hot or cold drink where you can choose from the vending machine in the Observation Lounge.
Getting here:
About 8 minutes' walk from JR Aomori Station East Exit
ASPAM
Level 13
1-1-40 Yasukata Aomori-shi Aomori 030-0803
Opening hours:
April to October: 9:00 – 19:00
November to March: 9:00 – 18:00
3. Enjoy to the Live Tsugaru-shamisen Performance
Enjoy the live show happening daily at 11.30am and 2pm. Each session takes about 30 minutes. The performer will play some traditional music and also gives a small introduction on each song he plays.
ASPAM
1 Floor Fore-Stage
1-1-40 Yasukata Aomori-shi Aomori 030-0803
Daily at 11.30am and 2pm
Entrance fee: FOC
4. Take a stroll at Aoi Umi Park and listen to the sea
Located just behind the ASPAM is a park by the sea. Here, you will be able to get a beautiful view of both ASPAM and Aomori Bay Bridge.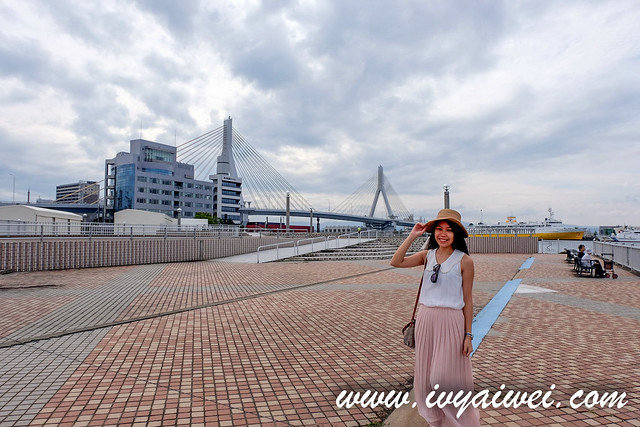 With my pretty bestie WenChing
5. Eat Nokkedon in Furukawa Fish Market
Or also known as Aomori Gyosai Center 青森魚菜センター is a public fish market that is filled with vendors selling all sort of local seafood, pickles and vegetables. Here u may be able to find the must-eat of Aomori – Nokkedon. It is actually a bowl of rice covered with toppings.
What you need to do, just buy the ticket in a set of five at ¥650 or ten at ¥1300 from the Information Desk, then use a ticket to exchange for a bowl of rice at the orange flag stall, and then pick up the toppings of your choice available from the stalls with your coupons. Scallops, uni, tai fish. prawns, salmon, shellfish, crabs, ikura… There are a variety of sashimi, meats and side dishes offered by each stalls. Some may cost 1 ticket, some maybe 2 or 3. Top them up in your rice bowl and voila, it's your own customization of nokkedon.
Do enjoy the don at the rest area of the market. Wasabi, soy sauce, tea and water are provided at the rest area for free.Please be reminded that take-out is not available.
Our nokkedon with all the fresh seafood. The seafood was amazingly fresh, sweet, fat and juicy!
We bought an additional pack of uni at just ¥2500. Tears rolled out from our eyes as that was the best uni we had. Super fresh super sweet super creamy and just super AMAI.
Getting here:
Furukawa Fish Market is about 5 minutes' walk southeast of JR Aomori Station.
Opening hours: 7:00 – 16:00 (closed on Tuesdays and New Year days)
6. Take a stroll at Aoi Mori Gyoen
Here we spotted Ajisai! Though wilted, we still had some fun time taking photos with them.
7. Pray in Utou Shrine
Utou-jinja is named after a bird called Utou and here we got our Omikuji, おみくじ the Japanese fortune-telling paper that granted with good blessing 
Getting here:
About 10 minutes' walk from Aomori Station
Uto Shrine
〒030-0803 2-7-18, Yasukata, Aomori-shi, Aomori
TEL 017-722-4843
8. Immerse into the famous summer festival of Aomori – the Nebuta Festival in Nebuta Museum Wa Rasse
This place is the permanent exhibition of Nebuta, showcasing the Nebuta festival illuminated floats to the people and you may learn about this fun and exciting event over here. In case if you couldn't make it for Nebuta festival during early August, check out this place.
Getting here:
About 1 minute walk from JR Aomori Station
Entrance fee: ¥600
Nebuta Museum Wa Rasse
1-1-1 Yasukata, Aomori City
9. Shop for local goods or souvenirs in A-Factory
Located just next to the station, A-Factory is a place to shop for souvenirs and gifts only available in Aomori such as sweets, processed goods, fresh vegetables and fruits, juice and cider. Besides that, café and restaurant are available in this premise too. You can even be seated at the boardwalk overlooking the bay to enjoy your meal. Remember to bring along your passport to enjoy the tax-free service for tourists/
10. Taste the cider in A-Factory
As you may have known, one of the Aomori's productions is apple, so apple is used to make the cider and you must taste the apple cider in A-Factory.
Before that, purchase the "Tasting Card" in the restaurant at second floor. There are ¥300, ¥600, and ¥900 Tasting Card, we bought the ¥900 so that we can try out all cider available. There were 7 kinds for us to try on that day and some are made in house. We fancied the sweet cider, and we both thought, ciders taste better in sweeter form.
Also, we paid ¥300 for tasting 10ml Apple Brandy but sorry to say, that's really not something we like.
11. Happy hour in Yatai and eat all the local delights さんふり横丁,青森
A small alley housed with 15 retro-looking stalls and each of them has their own specialties and most of them serve the Aomori must-eat! Come here to try out all the must-eat and wash them down with a glass or two of local sake or beer. We had a lot of delicious must-eat in 真心
Sanfuri Yokocho Yataimura
Honmachi 3-8-3
Aomori
030-0802
Tel: 017 745 4242
12. Shop for fresh seafood and seafood souvenirs in Auga Fish Market
Or also known as Auga Shinsen Ichiba アウガ新鮮市場 is a fish market that located in the basement of Auga Festival City Shopping Centre. It is packed with vendors selling a variety of fresh seafood, fish, shellfish, vegetables, fruits, dried seafood such as dried scallops and etc. There are also a sushi bar here in the market.
Getting here:
One block away from JR Aomori Station. Auga Fish Market is located in the basement of Auga Festival City Shopping Center.
13. Eat more sushi / seafood don
Yep, one must enjoy more sushi and seafood don when in Aomori because their seafood is super fresh, sweet and delicious. We randomly popped in one restaurant and ordered a nigiri set and seafood don, paired with local produced sake. The night ended well with this remarkable dinner!
三色丼 ¥3,200 loaded with Uni (Sea Urchin), Ikura and Hotate (Scallops)
特上にぎり¥3,200
Made by this cute sushi master. He posed for us!
Getting here:
Located across the station, about 1 minute walk from the station.
Daikoku Sushi 大黑寿司
青森縣青森市新町 1丁目2-6
14. Have a full wholesome breakfast in the hotel
We stayed in Hotel JAL City Aomori (at about ¥10,000 per night for 2 with breakfast), and I truly enjoyed their breakfast spread available. The spread features a variety of delicious dishes made of fresh local fruits and vegetables and fresh seafood from the port. What amazed most was the curry cooked with Aomori apples, drizzled it over my bowl of rice, and so yummmz!
Oh, the breakfast in this hotel is ranked as Top 20 Best Breakfast Hotels in Japan 2018 by TripAdvisor Japan.
Getting here:
About 8 minutes' walk from JR Aomori Station.
Hotel JAL City Aomori
030-0803 Aomori, Aomori, Yasukata 2-4-12 , Japan
Related Posts via Categories
---
---